CSR
The owner of this hotel are themselves of positive nature who have devoted their lives for betterment of local people at their level best through involvement in different social and development activities happening in the community. Till to-date they have supported to a total three Tharu boys from Freed Kamaiya Family namely; Sarpancha Chaudhary who worked with Mercy Corps for three years and doing business now, Jangalu Tharu who got employed in NEWAH and Balakram Tharu who got employed in his own community as a teacher of primary school.
Recently Tharu Home Resort has supported to Mr Krishna Raj Chaudhary (Tharu) with Nrs. 25,000.00 for his Phd. studies on "Lord Krishna Character in Tharu culture and tradition".
Phd. candidate – Krishna Raj Chaudhary receiving support from STEPS chairperson which is from Tharu Home Resort as CSR
Furthermore, a female Tharu writer of the book titled " Jeevan Ka Bakra Rekha Haru " that means Curved Lines of Life – Balika Chaudhary (Tharu) has been rewarded with a cash of Nrs. 10,000.00 by Tharu Home Resort.
Tharu Female Writer – Balika Chaudhary receiving award from Tharu Home  Resort Owner
Furthermore, the Resort also aims to preserve and promote Tharu culture to perpetuate cultural diversity and recently has support to Tharu song writer – Shyam Tharu and Tharu singer – Darpan Kusumiya with Nrs. 10,000.00 each amid a Tharu Cultural Program.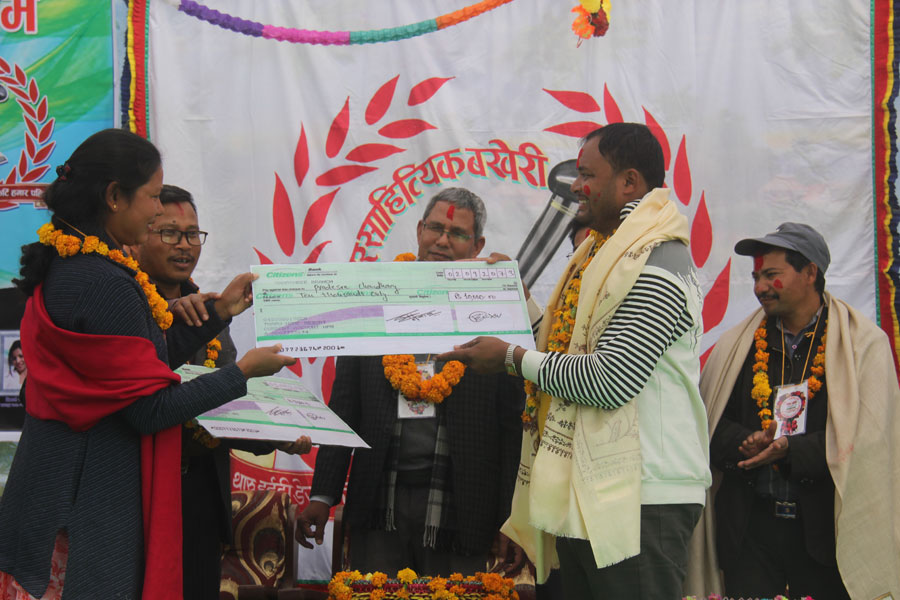 Tharu Singer – Darpan Kusumiya receiving award from Tharu Home Resort Owner
Tharu Song Writer – Shyam Sarabi receiving award from Owner of Tharu Home Resort